It wasn't fall yet; but it was one of those summer days that gives you hope that summer won't last forever. The air was almost crisp, and a single breath made you feel alive. The highest elevations were just starting to think about changing colors, and it wouldn't be long before the mountains donned their fall wardrobe.
So Warren and I made plans to spend this wonderful day hiking. It has become a pastime that we really enjoy; but after almost killing ourselves in the July heat at Abrams Falls, we swore off until the temperatures got cooler.
We loaded up the backpacks with water, power bars and chicken wings and took off for the Park. That is when it happened…I had a great idea!
I suggested we hike the Cades Cove Loop and see it from another perspective. Like most people, we had driven the loop many, times. I was certain there were many things waiting to be discovered that we could not possibly find from a car. Things waiting for me and my camera!!! Sounds great so far, right?
The loop is eleven miles from start to finish. There are two cut-off roads that would allow us to shorten the hike if we thought we needed to; so, how could we go wrong?
We arrived at parking area at 11:30. Not exactly an early start, but we had all day and planned to take it.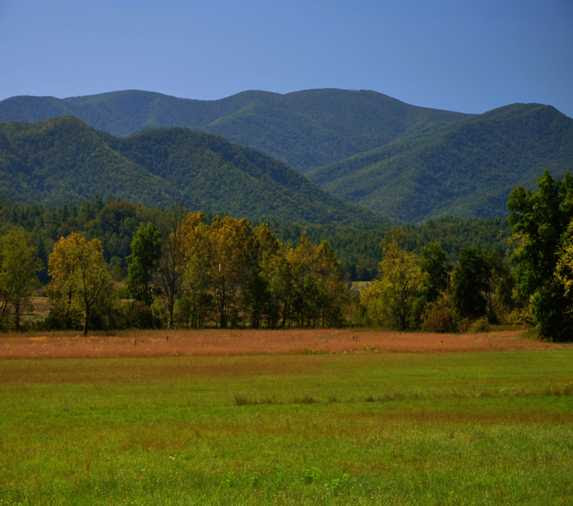 The day was picture perfect. Not since early spring had the air been so clear in the Cove. The sky was the bluest blue and you could see every detail of the mountains. This was going to be great!
The first couple of miles into the Cove went quickly. As we approached Sparks Lane, Warren asked if I wanted to cut through there and start back. Start back? I was just getting started; I could not dream of starting back! I declined and we continued.
The wind was blowing slightly and we never really broke a sweat. I was in hog heaven. I had my camera in hand and I was finding lots of things to keep my mind off of the fact that we were hiking.
There is magic here in the mountains, and you never know what shape it will take or where you might find it.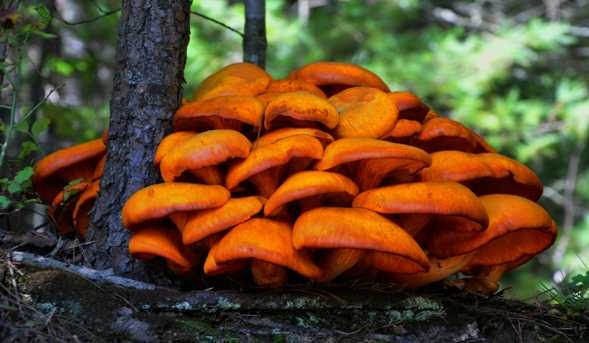 Just off of the roadway and nestled into the side of a log this cluster of light filled mushrooms…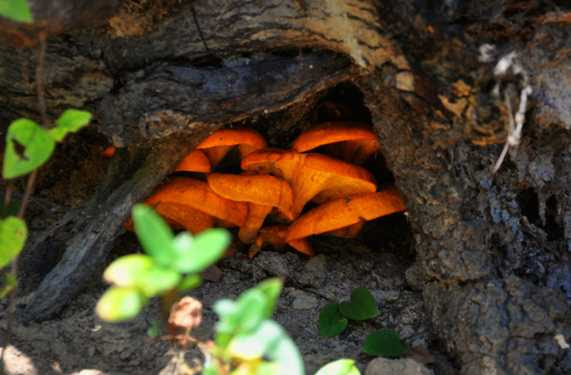 Tucked beneath the bouquet, a hobbit hole filled with more little treasures…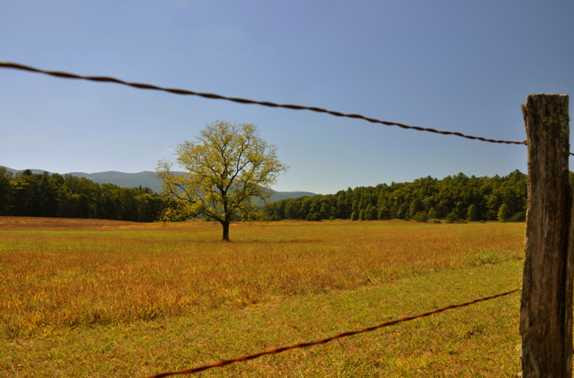 A golden tree standing alone in a field against a cloudless sky…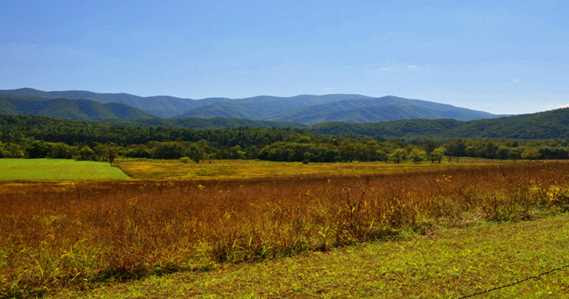 Layers of mountains like waves that spill out onto the open Cove…
They all feel like magic to me.
As we approached the second cut-off road, Hyatt Lane, there was a decision to be made. We had hiked four miles. The sign at Hyatt Lane indicated that if we took the cut through it would be only five miles back to where we started. If we continued on the loop, it would be seven miles. Now this is where it gets a little crazy. You see, I was having great success in the treasure hunt. So much success that something took over my sense of reason and before I knew it, the words "lets walk the whole thing" fell out of my mouth like candy from a piñata. Once said, there was NO turning back! What was I thinking? I suppose I suffer from the "weekend warrior" syndrome. Warren, in his usual subtle fashion, reminded me of how many "weekend warriors" die on the weekend! We hiked on!
In the process of driving the loop, many people stopped their cars to talk to us. Possibly another benefit of taking it on foot, we enjoyed the random conversations with those who were curious. After all, it was a perfect day and one that should be spent outside, not in a car!
As we continued, I took many photos of the mountains, flowers, and a stream, but the reward for continuing the hike was off the road in a field of yellow flowers. For me, THAT was the prize!

These beautiful butterflies were swarming the flowers. By sheer luck, we had stumbled into the great Monarch migration. I took dozens of pictures and knew in my heart that was reason enough for having made the journey.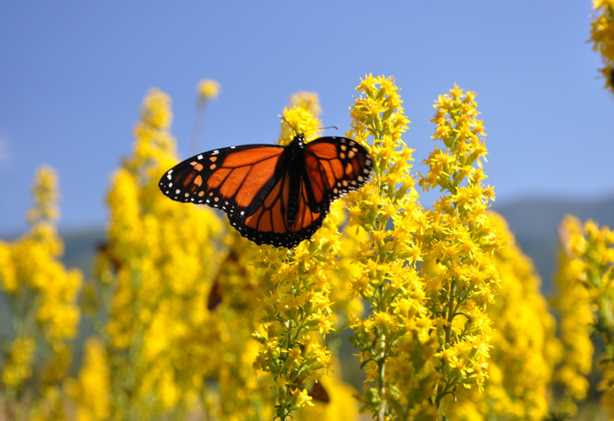 Well, at least it was at the time.
As we approached the visitor's center in the Cove, we decided we did not need to add any unnecessary steps to our hike, so we took the left turn to head out. We were over halfway there, but our legs were feeling a little like rubber, and our very comfortable shoes were now not so comfortable. I suggested that we could walk until we were ready to quit, and then hitch a ride on the back of someone's pick -up truck!
The operative word in the statement was "quit". That is the other thing I did wrong! I used the word "quit". Those of you who know Warren or me understand that neither of us knows the meaning of that word. Once we start something, we become possessed. We must finish it at all costs!
We were stopping more frequently now. Our feet were throbbing, and legs were very tired. I found very little now that I wanted to take pictures of. I wanted to be finished. Visitors who had spent the day in the Cove were now passing us on the way out. Many of them stopped to give us a pat on the back and to egg us on to the end. That was easy for them to do; they had their butts parked in a car seat all day. Mine was tired!
Soon we heard the sound of a truck. I looked behind us, and I saw the Cades Cove hay wagon giving rides around the Cove. I told Warren that this was our chance to leave gracefully. We must have looked as we felt, exhausted! The driver stopped and asked us if we needed anything. That is when it happened, again! I said no thank you, and the driver smiled and drove on.
NO THANK YOU? I looked around as if someone else had said those words; they could not have come from my mouth!
Warren smiled; he was in as much pain as I was, and we still had two miles to go. Yes, I thought, the two miles that we added by not taking Hyatt Lane cut through, may be the two miles that kill us before the day is over. Warren told me we could quit whenever I wanted to, but I had to say when. (He knew I was not going to do that.) We walked on.
Several cars stopped and asked if we needed a lift—YES we need a lift, but we are too stubborn to take it! Now we were too close to give in, after all we would have Loop "braggin' rights". Was that what it was all about? A ranger who had talked with us a number of times during the day passed us one last time. We were sitting on a rock to rest after an uphill climb. This time he asked us if we were alright. Warren in a fit of brutal honesty said, "yes we are just old and tired…I am old and she is tired!"
Finally, our goal was in sight. We could see the stables. Actually, we could smell the stables. Never in my life has horse manure smelled soooooo sweet. It will forever hold a place in my heart….the end was in sight.
As we walked the horse path up to the parking area we could hear the sound of rushing water. Water? How could it be water? Every creek bed we came across today was dry. Not this one! It was the last thing that stood in the way of us and the car — we were going through it!
It was up hill all the way. We made it!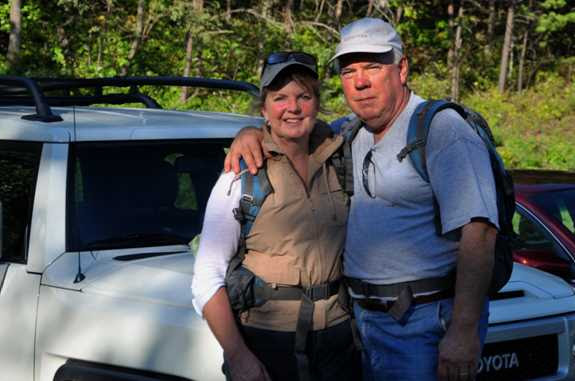 We had devoured our chicken wings early on, and survived on energy bars and water. We were hungry and tired and decided to stop at the Timbers for dinner. As we hobbled into the restaurant, shoes and pants legs soaking wet, we made our way to the booth and collapsed. We were exhausted, but feeling pretty good about having done "it". A woman half our age came to take our order. We felt it was necessary to explain our condition, and besides, we had earned braggin' rights. We declared that we wanted a rib-eye; we had earned one today because we had "hiked the entire loop at Cades Cove!" She said, "Oh yes, that is a beautiful hike, I have done it several times…"
Don't you just hate it when that happens????
Till later,
Cyndie