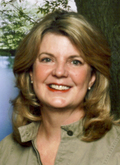 I was born and raised in Virginia, just outside the D.C. Beltway. I began selling Real Estate in the tough market of the 80's. I was fortunate to have a wonderful mentor who stressed the importance of honesty, hard work, service and communication with clients. I learned these lessons well.
When my youngest child left home, I decided to return to real estate sales that I had enjoyed so much - only this time in my adopted home of East Tennessee. My husband and I picked this area over every other place on the planet, and are thrilled with our choice every day. East Tennessee is a unique area and helping people find and own their piece of the Smokies is a passion.
When we can get away we enjoy fishing in the Park, hiking the trails and riding motorcycles on the endless miles of beautiful parkways that are available here.
After a few successful years working with other firms in the area, we decided to start our own Real Estate firm. With Warren's legal background, and my real estate background….it seemed the perfect match.
We have enjoyed great success and are joined by a terrific team of agents who are all committed to helping others fulfill their dreams.
I have earned more awards than I could ever have hoped for. Having our own firm means I can do it my way!
I understand that getting here is a process, not an event. I am in it with you for the long haul. Let me know how I can help.
I look forward to hearing from you.
Cyndie