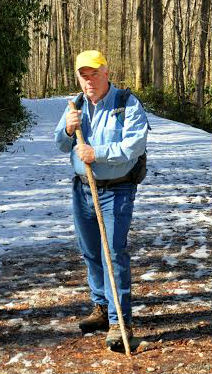 I started out to be a career Navy pilot. A bad back cut that career short so, like so many kids of the 70's, I went to law school. That worked out pretty well, as I spent the next almost 30 years practicing law. Along the way, I also picked up a CPA certificate and used that education to advantage in my career.
You've likely read the story of our coming to east Tennessee in Cyndie's bio or welcome message. Cyndie was so successful as a real estate agent that she just had to have some help. I was tying trout flies, minding my own business. She looked across the room and recruited me.
A lot of my law practice involved real estate law, so I was a natural. I became a real estate agent and enjoy working side by side with Cyndie and our other agents. My primary job is to keep the enormous volume of paperwork straight and flowing. But sometimes I do get to deal with clients, especially those that enjoy trout fishing or motorcycles as much as I do.
We always knew we wanted to work for ourselves and build, not the biggest, but the best respected and most effective real estate firm in our area. So when Cyndie passed her Broker exam, we created Why The Smokies.
We hope you enjoy this website and, if you have a yearning for living in the Smokies, part-time or full-time, take advantage of our experience, both personal and professional, to help you achieve your goal.
As always, if I can help, give me a call,
Warren