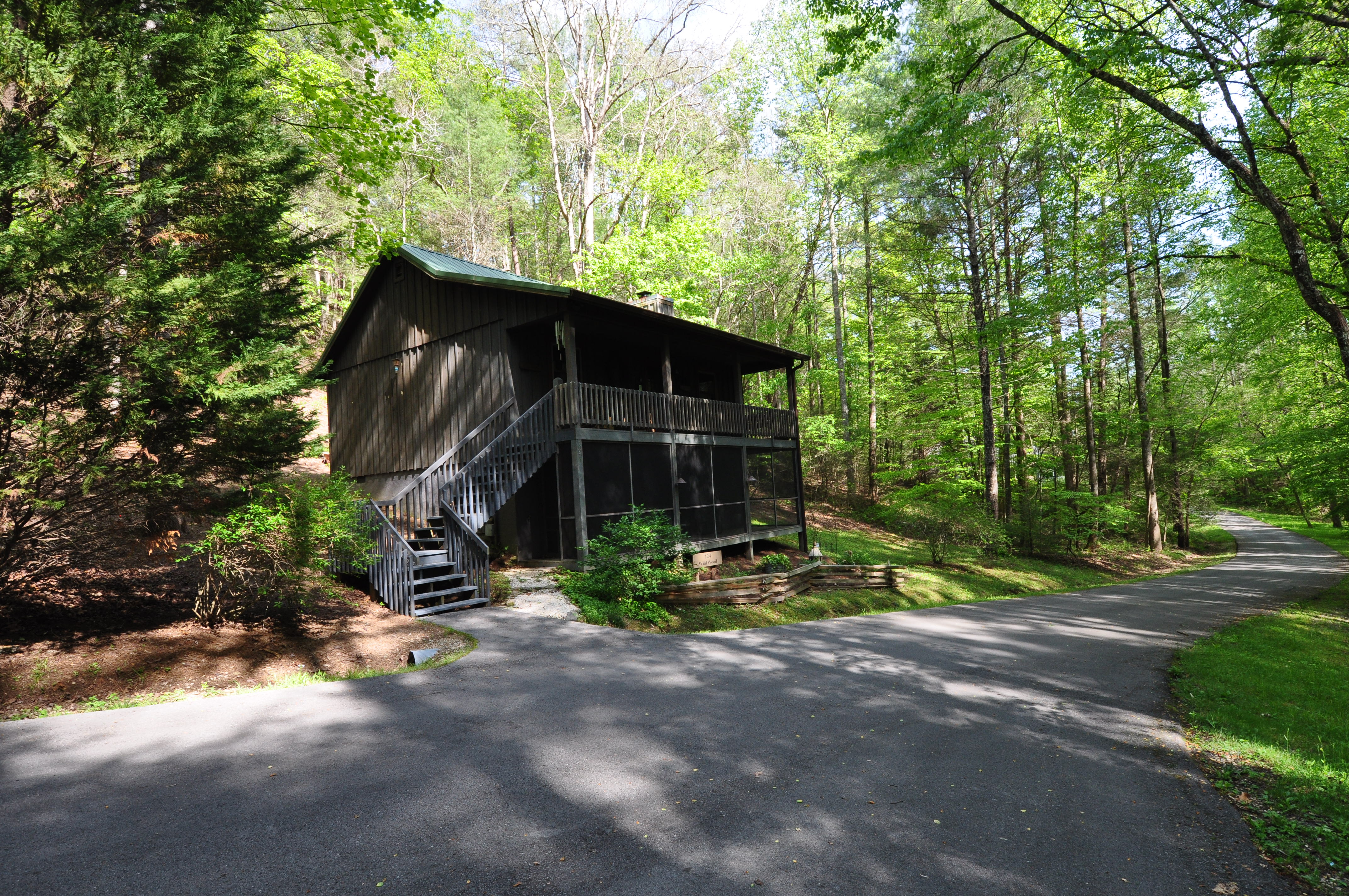 TO SEE MORE OF WILDWOOD CLICK ON THE LINK BELOW
Wildwood is located in the beautiful mountain community of Laurel Valley in Townsend TN. Townsend is a gateway community to the Great Smoky Mountain National Park, at the Cades Cove Entrance.

As you make your way down the peaceful drive, dodging a bit of wild life as you go, you'll know you've come to a special place. Once inside, you'll notice that everything is just a cut above what you expected. From the leather furniture and primitive decor to the high thread-count linens and luxurious towels, and right down to all the little things you'll find that will make this experience one you'll always remember.

It is our goal to create a tranquil and serene setting that will help our guests unplug and enjoy the spirit of the mountains and the wildlife that lives here. Don't worry...we have provided you with cable TV, telephone and Wi-Fi just in case you can't totally give up the gadgets. Most cell phones have great reception, especially on Verizon.

The cabin is decorated in a primitive theme to match the beautiful interior of hand hewn logs. Nothing says mountain cabin, like a warm evening by at the fireplace; so, when in season, enjoy your evenings by the warmth of the fireplace.
The beautiful kitchen has all the comforts of home with everything you might need to cook full meals, or nuke a burger.

If you love to grill out, we have furnished you with a gas grill to handle those steaks you'll find at the local IGA!

The huge indoor jetted tub will pamper you before slipping into the King Size bed for a great night's sleep. Luxury linens and towels, pillows, and blankets are all supplied. There is a washer and dryer in the cabin for your convenience.

Wildwood has a parklike setting complete with a picnic table and abundant wildlife.
The setting is private and you can enjoy your visitors from the covered porch complete with rockers and swing, or stroll downstairs for an evening in the screened porch.

Wildwood is VERY motorcycle friendly. The access is easy and paved. There is plenty of flat parking. If you are a rider, you'll find Townsend to be a Paradise! Every year thousands visit this area to take advantage of these mountains and the day trips they offer and Wildwood offers a terrific location to take advantage of these trips.

From Wildwood you are only a few short miles from the Cades Cove entrance to the National Park. While staying here, the Park is your play ground.

No matter what you like to do during the day, we hope you will enjoy retreating to the peace and warmth of the cabin at day's end.

It is our hope that you will come to consider Wildwood YOUR home away in the Great Smoky Mountains!

We hope to see you soon.
Warren and Cyndie